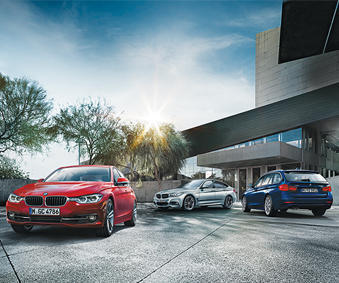 Quality Rated SUVs Oakville
Quality Rated SUVs in Oakville at Budds' BMW
If you live in Oakville and are looking for a quality rated SUV, visit Budds' BMW today. Our Oakville dealership provides Oakville residents with great selection of premium new and pre-owned sport utility vehicles with competitive pricing and financial plans. If you're looking to bring home a reliable BMW SUV, we encourage you to take a look at our online inventory to gain a thorough understanding of the vehicles that we offer, right from the comfort of your own home! We understand that shopping for new or used quality rated SUVs can be a daunting endeavor in Oakville, as our community is rapidly growing and there are so many choices. However, when you connect with us at Budds' BMW, we are confident that we can make your search for quality rated SUVs in Oakville enjoyable and stress-free.
Quality Assurance at Budds' BMW
Oakville residents can rest assured knowing that the vehicle they choose at Budds' BMW is going to be reliable and provide an enjoyable ride for years to come. Whether you are looking at new quality rated SUVs at Budds' BMW in Oakville, or you're more interested in purchasing a pre-owned SUV, you don't have to worry about whether your vehicle is going to last years down the road. All of our certified pre-owned vehicles have been thoroughly inspected before entering our showroom and afterward. It is our mission at Budds' BMW to keep our communities safe and ensure that our clients have the best BMW experience possible.
Choosing the SUV that suits Your Lifestyle and Needs
All of our SUVs are in top quality condition, regardless of whether they are new or pre-owned. When looking to purchase quality rated SUVS in Oakville, there are so many factors to consider. Affordability is usually one of the main factors that people consider, along with mileage and the condition of the vehicle. At Budds' BMW, we offer finance and lease programs that will make choosing your quality SUV easier, as you won't need to compromise your lifestyle. If it is in your budget to purchase a new SUV, the options are virtually limitless. You can design your own custom BMW SUV on our Budds' BMW Oakville website by choosing the body style, engine, exterior color, transmission, and of course, all of the upgrades that would make your driving experience the most enjoyable. If you have little ones and plan to go on long drives to the cottage, or perhaps you simply enjoy listening to music on premium sound equipment, the choice is yours. Book an appointment online to test drive any of our quality rated SUVs at our Oakville dealership today. Or, feel free to call Budds' BMW with any enquiries you may have.